December 1: African Diaspora Network 10-Year Anniversary Celebration
Tuesday, December 1, 2020 | 8:00 AM PST – 11 EST – 4 PM GMT – 5 PM CET
African Diaspora Network invites you to our virtual 10-year anniversary celebration! Join us as we remember our humble beginnings and honor a decade of commitment with our global community of Africans, Diasporans, and friends of Africa. Since its inception in 2010, the organization has been founded upon a vision of bringing together stakeholders to uplift the continent and the communities in which we live. Learn about the history of ADN through a panel of founding members moderated by Dr. Jacqueline Bouvier Copeland, Founder of The WISE Fund and Black Philanthropy Month. This event proudly features a keynote presentation by Dr. Musimbi Kanyoro, ADN founding board member and co-chair and former president and CEO of Global Fund for Women.

We look forward to celebrating our hard work and successes as we seize the tremendous opportunities that lie ahead, all in support of the good of Africa and the communities in which we live.
Dr. Musimbi Kanyoro, Chair of the International Board of United World Colleges, ADN Founding Board & Chair, Former President & CEO of Global Fund for Women
Dr. Musimbi Kanyoro (Kenya) was the first Board chair of African Diaspora Network (ADN) and she served in this position until 2018 and continues to be a committed supporter of the ADN. Currently, Musimbi chairs the Boards of Women's Learning Partnership and United World Colleges. She also serves on the Boards of CARE international, and UN Global Compact where she is also the Senior advisor on the project #TargetGenderEquality. She is a trustee of Homeward Bound Projects an initiative which seeks to inspire and equip women scientists to embrace leadership in climate change. Dr. Kanyoro spent nearly four decades leading International organizations and departments focused on improving the status of women and girls in the world. She is the immediate past President and CEO of the Global Fund for Women, a public grant making foundation which seeds, strengthens, links the work and actions of the Women's movements globally. Musimbi is a frequent public speaker on many forums and have written and published widely on gender matters.
Dr. Jacqueline Bouvier Copeland
Founder of The WISE Fund and Black Philanthropy Month and its Summit series (Moderator)
A seasoned nonprofit and philanthropy leader, Dr. Jacqueline Bouvier Copeland is Founder and CEO of The Women Invested to Save Earth (WISE) Fund, an innovation enterprise, supporting grassroots Black and Indigenous women climate change innovators in Africa, Brazil, Australia and the U.S. She is also the Founder of Black Philanthropy Month, a global campaign to document, celebrate and promote African-descent giving and funding in all its forms.
Dan Hartz
Founding Board Member, African Diaspora Network
Dan is a Product Specialist at Envoy, Inc. He is a founding board member of African Diaspora Network and former Director of Finance and Operations. He now helps to develop and implement strategic initiatives. Prior to joining Envoy, Dan was senior manager of Golden Mean Capital Partners, a group focused on economic development in African agriculture.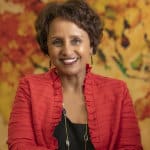 Almaz Negash
Founder and Executive Director, African Diaspora Network
Almaz began ADN in 2010 to mobilize and engage Africans in the Diaspora and facilitate direct collaboration with social entrepreneurs, innovators, and business leaders to invest in Africa. For the past twenty plus years, Almaz has sought to improve the quality of life of our communities through both local and global partnerships.
Dr. Musimbi Kanyoro
Chair of the International Board of United World Colleges, ADN Founding Board & Chair, Former President & CEO of Global Fund for Women